fibreglass to aqua guard 20-20 resurfacing
History of the pool
Over time, pre-moulded fibreglass pools get osmosis. Osmosis occurs when the fibreglass shell absorbs moisture.  Osmosis looks like black spots on the surface of the pool. It can't be removed chemically and the best way to extend the life of the swimming pool is to apply a new interior Fibreglass lining to the pool. The owners also wanted to replace the old tired paving and raise the paving to hide the moulded edge of the pre-moulded fibreglass pool.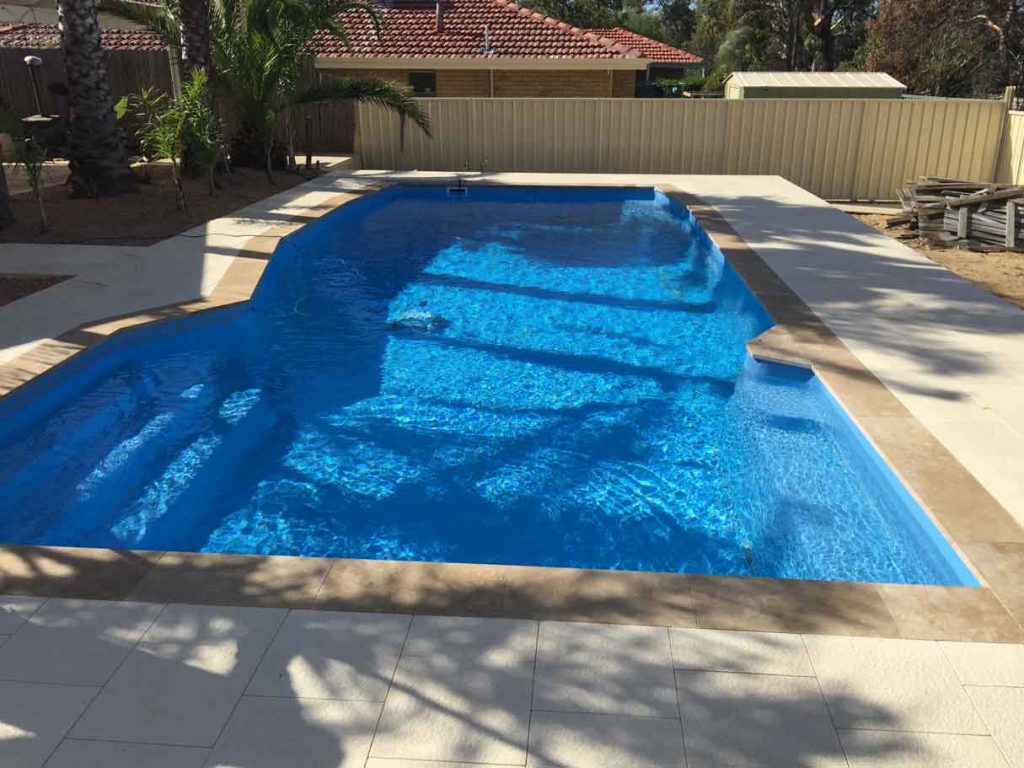 The Aquaguard Fibreglass 20-20 Process:
Preparation:
Drain and brace swimming pool.
Surface preparation, abrasive sanding of the existing surface, cleaning and chemical etching.
Treatment of osmosis:
Application of the primer coat. VE resin. 
Application of the reinforcement material CSM.
Application of the bulk resin coat. VE resin.
Application of finishing coats:
Sanding and bogging the laminate.
Apply the vinyl ester fill coat (under coat). This layer strengthens the pool surface resistance to chemical attack while simultaneously improving the smoothness of the surface finish.
Remedial sanding.
Application of the final Aquaguard top coat.  This is the final layer of the laminate which can be applied in a variety of colours and adds the final protective and beautiful glossy finish to the pool.
Finishing:
Replacing of internal fittings and lights if applicable.
Start filling.
Remove braces.
Chemical and pump start up.
All that's left is to fill the pool with water and dive in for a swim.